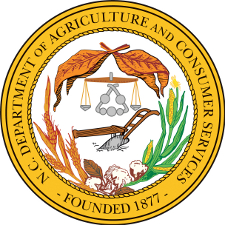 North Carolina Department of Agriculture & Consumer Services
Conservation Reserve Enhancement Program
CREP is a voluntary program utilizing federal and state resources to achieve long-term protection of environmentally sensitive cropland and marginal pastureland. These voluntary protection measures are accomplished through 10-, 15-, 30-year and permanent conservation easements. For more information: CREP Home
Zoom to County
Then click on the map to select your location.
* At any point you can drag and click on the map to select your location.
1. Select the method to search for your property by clicking on one of the radio buttons in the 'Select Location' window.
You can search by street address, latitude/longitude coordinates or by zooming into the county of the property.

2. Click on the map with the left mouse button to select the property, if needed left click and hold to drag the map view or use the plus and minus buttons in the upper left of the screen to zoom in/out of the map.

3. Click the 'Select Location' button when you have located your property.

4. Fill out the form with your contact information in the 'Enter Your Information' window.

5. Click 'Submit' when all of the required fields have been entered.

6. Thank you for your interest in the CREP program, someone will contact you shortly.